Asphalt Nitro
1.7.3g
Racing Game – Race with Lots of Fast Cars
Are you passionate about racing cars? Do you like the adrenaline rush that comes with racing fast cars? If yes, then you should give this racing game a try. Asphalt Nitro is a cool game in which you get to race with the most modern and advanced cars in stunning environments all over the world. It lets you test your car racing skills by providing challenging tracks that are filled with obstacles. You have to navigate them all at high speeds and ensure that you are the first one to cross the finish line. Aside from simple car racing, you get to perform a wide range of stunts in this game too. This adds to the gameplay experience and keeps you hooked from the minute you start playing.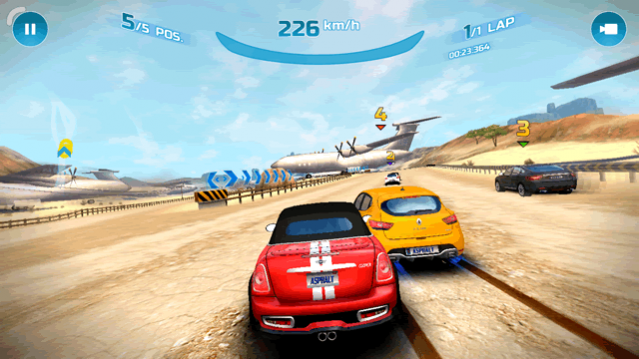 Asphalt Nitro combines fast-paced gameplay with stunning visuals to provide you with a fantastic racing game. Despite the high-quality graphics and abundance of gaming modes, this game comes in a very small package. You won't need to have much internal memory space to download and play this game. Apart from this, the controls of Asphalt Nitro are easier to understand and master. You can steer the car by tilting the screen in the required direction. To apply the brakes, you need to tap anywhere on the screen's bottom-left corner while you can give the car a nitro boost by tapping the bottom-right corner of the screen. The nitro boost is available for a short time period. So, it needs to be used wisely.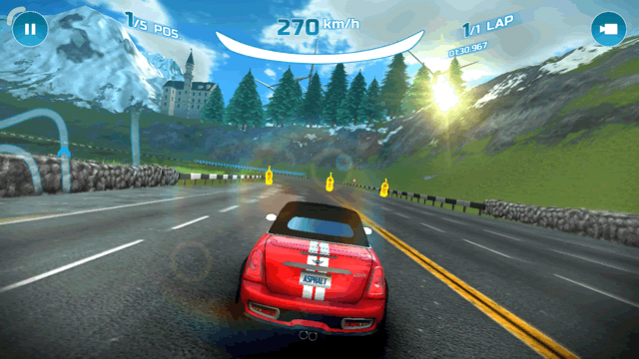 This racing game offers a variety of the fastest cars from various manufacturers. There are Ferraris, Lamborghinis and cars of all other popular car makers available. However, most of these cars are locked. You need to buy them in order to unlock them. You will need money to buy the cars, though. This money can be earned by completing and winning the races. To win the races, you need to reach the checkered flag in first place. You can increase your chances of success by buying power-ups before starting a race. Moreover, you can also upgrade your cars to make them faster and better than all your rivals. Performing stunts during the race can increase your winnings too. Moreover, you can double your rewards at the end of each race by watching video advertisements.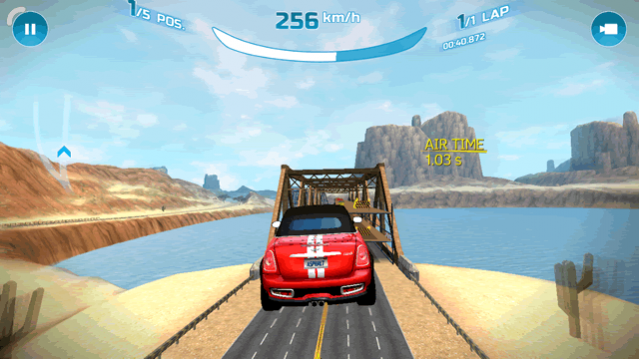 Asphalt Nitro gives you the opportunity to play multiple game modes. Each game mode is fun to play and offers something new to you. There are various tracks available that you can race on which are all unique and come with all sorts of challenging turns and obstacles. These tracks are located all around the world and have been set in environments that have been masterfully captured in full detail. There are ramps on the tracks which provide you the chance to lift your car in the air and jump long distances. Aside from the many game modes, there are limited-time events available too that you can participate in and win great rewards.
Features:
Multiple game modes
Lots of different advanced cars to race with
Unlock cars of various manufacturers
Race cars on challenging tracks
Stunning environments to race in
Earn money by winning races
Perform various stunts while racing to boost your rewards
Nitro boost for achieving higher speeds
Various power-ups to enhance your chances of winning
Option available to upgrade your cars
Paint cars in the color of your choice
Participate in limited-time events
Lots of achievements to unlock
Conclusion:
Asphalt Nitro is a gaming app which will primarily appeal to people who are huge racing fans and love racing fast cars. It offers them the opportunity to get behind the wheel of some of the fastest racing cars in the world and compete with other car racers on challenging tracks all around the globe. It is an excellent racing game and you should definitely have it on your phone.
---
Add a review
Tell us your experience with
Asphalt Nitro
1.7.3g
RELATED PROGRAMS
Our Recommendations
---
---
---
---